Star Building: Two Delegations Reiterate Support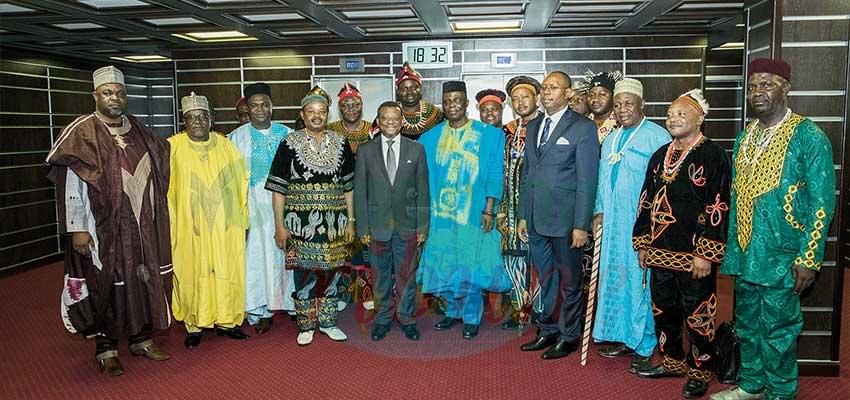 The North West Fons Union and the Cameroon Chevening Alumni Association paid a courtesy visit to the Prime Minister on February 1 and reintereted their commitment to work togetherm
The Prime Minister, Head of Government, Joseph Dion Ngute on February 1, 2019 had two separate working sessions with members of the North West Fons Union (NOWEFU) and the Cameroon Chevening Alumni Association. Senator Fon Chafah Isaac led the NOWEFU delegation and Sani Emmanuel, President of the association in Cameroon led its members.
NOWEFU members in their first consultative meeting with the PM reviewed the crisis rocking the two English speaking regions with the aim of improving the situation mindful of the unfortunate circumstances surrounding the current dispensation in these localities.
While congratulating the PM on his brilliant appointment, the Fon of Koshin, Fon Ju Wilson who spoke to the press said, they came together to have a working session with the Prime Minister to see how to go about to look for solutions to resolve the Anglophone crisis. "We have taken certain resolutions which we think will be fruitful to our community with the assistance of God Almighty. We are ready to work together with the Prime Minister to see that peace returns to our country. We are not happy the way the population is living," he stated. He urged the youths in possession of weapons to lay down their arms and approach the Disarmament Commission where they will be taken care and progressively reintegrated into the society.
For the Chevening association, they were at the Star Building to reiterate their commitment to the new Prime Minister. "We came to wish him well in his new office and also to reiterate our commitment to help him in this challenging task as PM of Cameroon. We equally came as an alumni association to celebrate leadership because the scholarship scheme established in 1983 has as ambition to train future leaders and in our respective domains where we operate, this has come true," Emmanuel Sani proudly narrated.
Acknowledging the difficult moments being experienced in the North West and South West Regions, he noted that members of the association are contributing in their respective ways to the peace and development of Cameroon. "Yes we are in difficult times in the country but as Chevenas, where ever we are, we are making our little efforts to make life better for Came roonians and the development of the nation. It is a commitment when we all accepted upon the award of the scholarship programme and that is exactly what we do once we return to Cameroon after our studies in the United Kingdom," he said.
Same category