Obituary : Major-General Tataw To Be Buried Tomorrow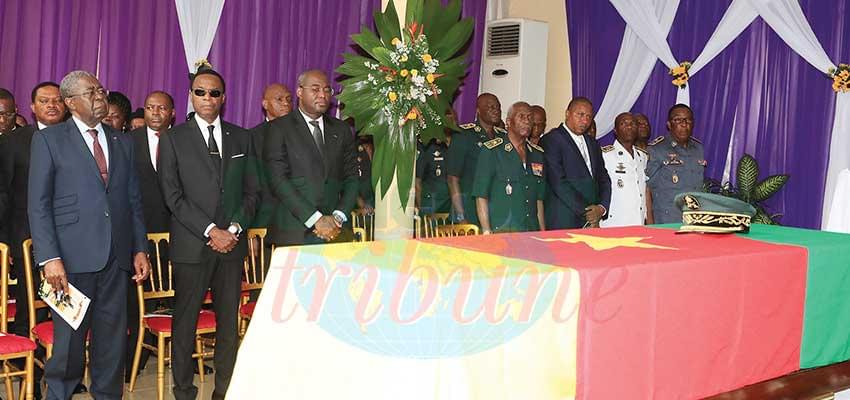 His mortal remains were yesterday coffined at the Yaounde General Hospital mortuary and a religious service organised at the Presbyterian Church Bastos.
The mortal remains of Major- General James Tabe Tataw who died on July 24, 2019 in France have been coffined at the Yaounde General Hospital mortuary for eventual burial tomorrow in his Ossing village Manyu Division of the South West Region. The Minister Delegate at the Presidency in charge of Defence, Joseph Beti Assomo led the military and other government officials who turned up at the mortuary on September 19, 2019 to pay their last respects to the fallen Army General of the second section who served the nation in several capacities. In a brief funeral service held at the chapel of the mortuary, the officiating pastor consoled the bereaved family in his sermon, reminding everyone that death is inevitable in this mortal world. "He is asleep in Jesus Christ," the man of God assured, adding that as the Christian the fallen Major-General read and practiced the word of God especially as a member of the Christian Men Fellowship of the Presbyterian Church in Cameroon (PCC).
The different eulogies written about the deceased Army General cum chief of Ossing portray him as a disciplined man. The Moderator Emeritus of PCC, Rev. Dr. Festus Asana in his eulogy described General Tataw as a simple man who had a precise military style. "As a member of the Christian Men Fellowship, in his simple uniform he identified with Jesus' followers fishing out men for Christ. I have always been carried by his impeccable English and always precise military style. There are many instances in which General Tataw made a great impact on me. In his home, the simplicity and hospitality was always evident. The legacy goes on," partly reads his eulogy. Major-General Tataw died at the age of 86 and will today Friday September 20, 2019 be given a military funeral ceremony at the Headquarters Brigade in Yaounde and will be buried tomorrow in his native Ossing village, where he was traditional ruler.
Same category