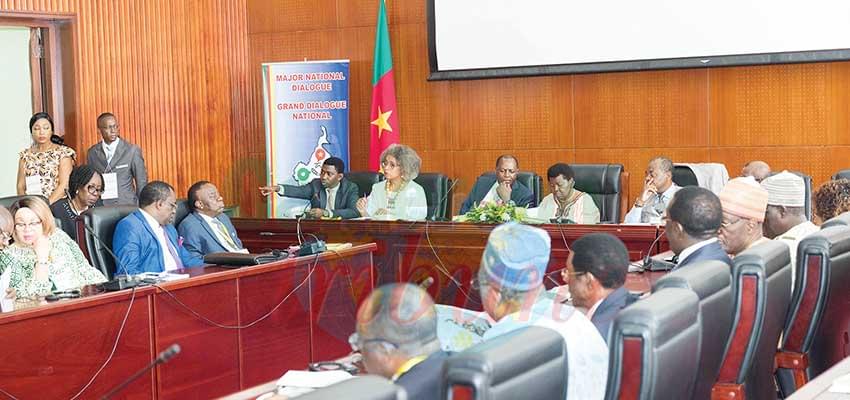 Those who had initially waved the ongoing Major National Dialogue with a back of the hand as another moment for participants to clap through already-taken decisions by the Yaounde authorities would need to revise their stance. If only for the manner of approach of deliberations, the calibre of and huge number of people in attendance and what has been said thus far, one may be tempted to think that much is in the offing.
From the opening ceremony through the composition of the Committee heads, observations are clear that the delegates have shown proof of freedom in their expression. In fact, there seems to be no taboo subject with regards to points of view. For instance, very few expected an ex-fighter to be allowed to go off his prepared speech to use certain words that regime apologists have dreaded over the years. Anglophone marginalisation, Anglophone problem, the form of the State, the Presidential term of office… are some of the issues highlighted in the ongoing Yaounde conclave which never featured on the initial agenda.
It is now clear that the eight committees comprising; bilingualism, cultural diversity and social cohesion, the reconstruction and development of conflict-affected areas, the return of refugees and displaced persons, the education and judicial system, decentralization and local development, the demobilization and reintegration of ex-combatants the role of the Diaspora in the country's development, were just to guide the brainstorming. So many things have been said, and sometimes by very unsuspecting individuals, that go far beyond the initially-communicated scope of the National Dialogue. The spirit of openness is perceptible. Understandably so as besides seeking ways of restoring normalcy in the troubled North West and South West Regions, so many other issues impeding smooth life need readjustment.
It would be wise for all and sundry to understand that Cameroon belongs to all Cameroonians irrespective of our social, cultural and linguistic backgrounds. Feelings of superiority and or inferiority should be made to belong to the past for they have really destroyed the country and taken it to where we are now. As the discussions rage on with the outcome much awaited on Friday October 4, 2019, participants should therefore understand that the bottom line must be for the country to emerge from the broad dialogue stronger, better united and with enhanced prospects of advancing socially and economically for the mutual benefit of all citizens.
To say the least, Cameroonians have a rendez-vous with history to polish up the image of the country within and without and t...
Same category