CAN Volley-ball messieurs : les Lions poursuivent leur stage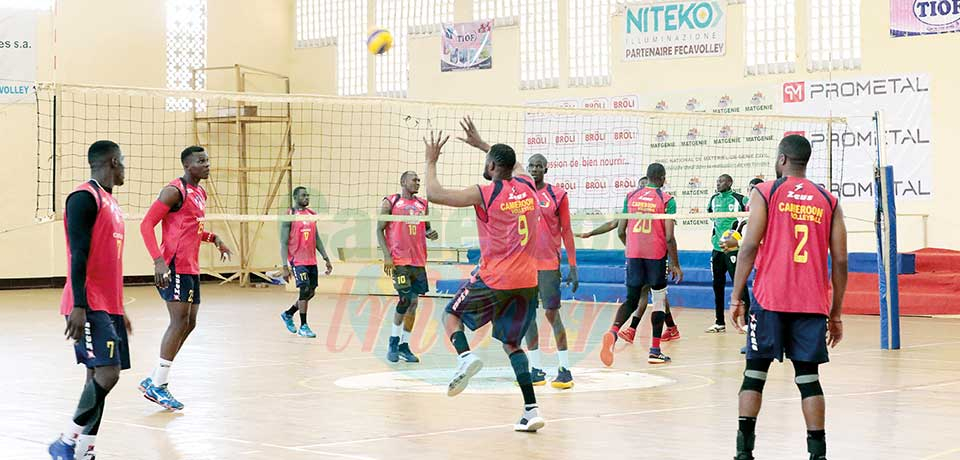 La sélection nationale seniors messieurs est entrée depuis la semaine dernière dans la deuxième phase de sa préparation à Yaoundé.
Le gymnase de l'Ecole nationale supérieure des Travaux publics (ENSPT) accueille en moyenne deux fois par jour la vingtaine de joueurs de la sélection nationale seniors messieurs de volley-ball. Depuis la semaine dernière, le groupe a entamé la deuxième phase de sa préparation dans l'optique de la prochaine Coupe d'Afrique des nations, prévue dès la deuxième moitié du mois d'août en Egypte. Dans la matinée de mardi dernier, ils étaient une fois de plus fidèles au rendez-vous. Manque encore à l'appel, le capitaine Nathan Wounembaina. Sous le regard du coordonnateur technique, Guy Nanga, assisté d'Abbas Malloum, l'accent a notamment été mis sur le service et la réception. La veille, ils ont passé le bloc au peigne fin. Le staff met en ce moment l'accent sur les gestes fondamentaux de cette discipline sportive. Dans ce programme, une fenêtre sur la musculation existe, notamment lundi, mercredi et vendredi.
Read also :
JO Tokyo 2020 : la fête malgré tout
Cette deuxième phase regroupe locaux et professionnels. Parmi ces derniers, la plupart des joueurs sacrés vice-champions d'Afrique il y a deux ans en Tunisie. Dès la deuxième moitié du mois d'août, la sélection nationale seniors messieurs devra relever le nouveau challenge d'un sacre continental. Même s'il est vrai que cette édition a un double enjeu, à savoir le trophée et deux places qualificatives pour les Championnats du monde. Mais, la sélection nationale n'a d'yeux que pour dame CAN. Elle s'en donne tous les moyens à travers notamment une longue phase de préparation.
Read also :
Olympic Games : Team Cameroon Finalises Preparations
Crise sanitaire oblige, il n'est plus question de faire le tour du monde pour le groupe. Toute la préparation se fera donc au Cameroun. Bien avant la seconde phase, il y a d'abord eu un premier écrémage. A son issue, 11 joueurs ont été retenus pour la suite de la préparation. Celui-ci s'est déroulé pendant tout le mois de mai. Il était notamment question de mettre à niveau la vingtaine de joueurs essentiellement des locaux, convoqués à cet effet. A cause du coronavirus, le championnat ne s'était pas disputé pendant plus d'un an. Le staff technique est notamment revenu sur le placement et le déplacement des athlètes, sur les gestes justes à avoir pour mieux attaquer ou pour mieux se défendre.
Read also :
Coupe du Cameroun de goalball : promhandicam sacré
Liste des 20 volleyeurs
Read also :
CAN TotalEnergies 2021 : dernières retouches à Bafoussam
Passeurs :
Read also :
Jeux olympiques : la délégation camerounaise à Tokyo
1- Arnaud Amabaya
Read also :
CAN TotalEnergies 2021 : le Mincom satisfait à Douala
2- Keedi Aboh
Read also :
AFCON 2021 Total Energies : Liaison Officers Sharpen Skills
3- Ahmed Awal Mbutngam
Read also :
Elite One : Coton Sport dans le doute
Pointus :
Read also :
Cricket : Cup of Cameroon Finals This Weekend
4- Cédric Bitouna
Read also :
Stade d'Olembe : un premier match test envisagé
5- Yvan Arthur Kody Bitjaa
Read also :
The Game : Nanbudo Targeting The Youths
Centraux :
Read also :
Fecafoot : de nouveaux textes adoptés
6- Joseph Kofane Boyomo
Read also :
Election Of Regional, Divisional Executives Follows
7- Dolegombai Sem
Read also :
2020 Olympic Games : Mballa Atangana Joins The Crew
8- Arthur Voukeng Mbativou
Read also :
Port autonome de Douala Volleyball : sur le quai de la victoire
9- Hassana Bana
Read also :
« Une saison magnifique et inespérée »
10- Mandeng Adjessa C.
Read also :
Cacao : la fève camerounaise a la cote
Recep-Attaques :
Read also :
Assemblée générale de la Fecafoot : la Fifa a tranché
11- Nathan Wounembaina
Read also :
Mixed Martial Arts : un tournoi en août prochain
12- Didier Sali Hile
Read also :
Elite One : Fortuna, Coton Sport Consolidate Lead
13- Elie Badawe Djakode
Read also :
2021 Camtel Championship : Bafia, Port Volleyball Champions
14- Landry Kavogo Yaoussia
Read also :
Processus électoral à la Fecafoot : de la tensions dans l'air
15- Yvan Vanel The Owona
Read also :
U20 Women World Cup Qualifiers : Lionesses Weigh Strength
16- Marcel Guiondong
Read also :
Women's Champions League : Louves Minproff Drawn With Malabo Kings
17- Kévin Noumbissi Moyo
Read also :
Challenge Geremi Njitap : Brasseries Football School, Boum's FC Winners
Libéros :
Read also :
Final Four messieurs : Terminus ce dimanche
Same category