Global Prosperity : China Restates Three-prong Approach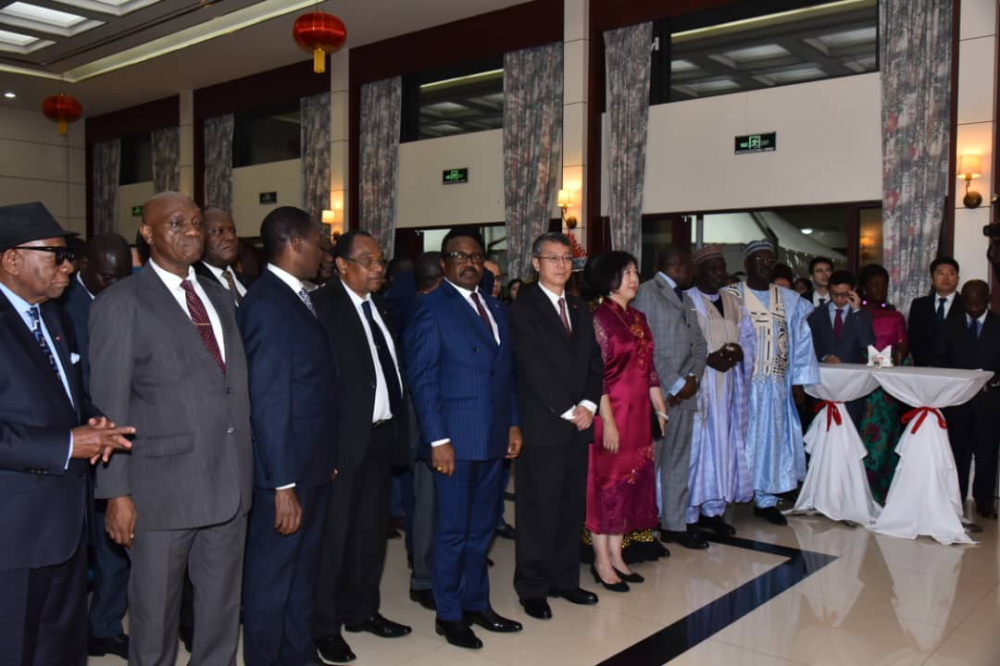 Speaking at a reception on September 21, 2023 in Yaounde to mark China's 74th National Day, Ambassador Wang Yingwu recalled President Xi Jinping's three major initiatives of development, security and world civilization.
Though it holds on October 1, the Chinese Embassy in Cameroon celebrated its National Day well in advance on September 21, 2023 in Yaounde. At an evening reception to mark the event, Ambassador Wang Yingwu dined and wined with hundreds of guests. The Cameroonian government was represented at the event by Felix Mbayu, the Minister Delegate to the Minister of External Relations in charge of Relations with the Commonwealth. The ceremony also saw the massive attendance of foreign diplomats, Cameroon cabinet ministers and other national political, religious and traditional dignitaries.
Development, Security, Civilization
"To build a world of lasting peace, universal security, common prosperity, openness and inclusiveness, President XI Jinping put forward three major initiatives," His Excellency Wang Yingwu recalled. Listing them as "the Global Development Initiative, aimed at promoting common development in synergy with the United Nations 2030 Agenda for Sustainable Development; the Global Security Initiative, providing a scientific guide to addressing global security challenges."
Opportunities For All
And, "the Initiative for World Civilization, which advocates mutual understanding and affinity between peoples through the strengthening of human exchanges." A China that enjoys long-term stability and sustainable development is confident, open, inclusive and willing to share, will certainly be a driving force for prosperity and stability in the world and bring forth opportunities in the place of challenges, the Ambassador stressed.
China-Cameroon Dividends
He cited China-Cameroon cooperation dividends as including the mid-term acceptance this year of the construction of the new Cameroon National Assembly headquarters, financed through Chinese aid. As well as the completion of the electricity transmission line for the Memve'ele hydroelectric power station. Other Chinese-funded and constructed projects that were completed recently include the first phase of the Yaoundé-Douala highway and the Mekin hydroelectric dam. While a good number of road construction, port and drinking water supply projects are progressing smoothly, the Chinese envoy assured.
Support For Cameroon's Development Strategy
He said as part of the joint implementation of the Belt and Road Initiative and the achievements of the Forum on China-Africa Cooperation, China was willing to align its development strategy with Cameroon's National Development Strategy 2020-2030. In order to implement the initiatives recently launched by President XI Jinping - to support the industrialization of Africa, modernize African agriculture and engage in talent training.
More Support Promised
China will make efforts to promote the transformation and upgrading of Sino-Cameroonian cooperation with focus in areas such as health, the well-being of the population and the digital economy, Ambassador Wang promised.
More Investments Coming
"China will invite competent Chinese companies to come and invest in greater numbers and establish themselves in Cameroon in order to support its socio-economic development. This invitation is also extended to Cameroonian companies to enter the Chinese market and export Cameroonian products to China. The Chinese side is also committed to intensifying human exchanges to promote mutual understanding and rapprochement between the two peoples," he underscored.
No Country Left Out
"China intends to deepen economic and commercial cooperation with all countries, including Cameroon, for the promotion of mutual investments and trade. The opportunities represented by China's immense and constantly growing market will thus be shared, and a mutually beneficial open strategy will be put into practice so that the achievements of economic globalization can benefit all people more equitably," he promised.
Greater Heights Ahead
"We are convinced that under the leadership of President XI Jinping and President Paul Biya, Sino-Cameroonian relations of friendship and cooperation will lead to ever greater progress for the benefit of both peoples," Ambassador Wang said. Inviting guests to raise their glasses to Sino-Cameroonian friendship and cooperation, and to the health of all.
African Awakening
"At present, African countries are experiencing a new collective awakening and are seeing their common aspiration to seek unity and progress and to oppose external interference day by day, as well as their capacity to master their own destiny and achieve independent development. China, which is delighted and encouraged, will as always provide its firm and constant support to African countries in their efforts to increase their representation and their right to speak on the international stage," Wang pledged.
Belt And Road Goodies
Recalling that 2023 marks the 10th anniversar...
Same category