Cameroon-France : Common Prospects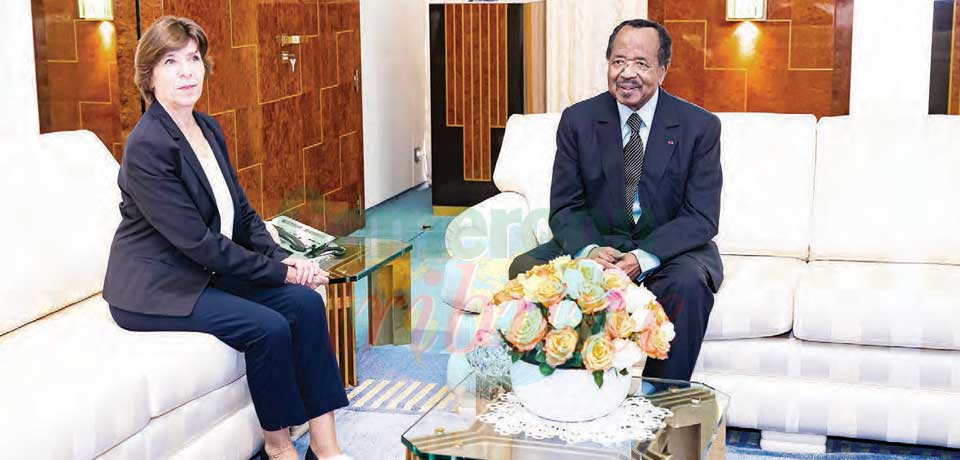 Mutual interest binds the longstanding relations between Cameroon and France.
Cameroon and France are two countries that share cordial diplomatic relations that date back to time memorial. Common principles such as the protection and promotion of human rights, good governance, decentralisation and sustainable development, cut across cooperation ties between the two countries. High-level visits have marked bilateral relations with political consultations being held to chart the path for collaboration domains. It is therefore within this framework that the President of the Republic, Paul Biya on November 4, 2023 granted an audience to the French Minister for Europe and Foreign Affairs, Catherine Colonna, on the side-lines of the 44th Ministerial Conference of La Francophonie. Bilateral cooperation ties between Cameroon and France, the visit of the France President to Cameroon, Emmanuel Macron and some current aspects at the international scene, came under discussion at the Unity Palace audience. Through the convergence of views, the two personalities agreed to harness cooperation ties to the benefit of citizens of both countries.
Politically, France supports Cameroon in the implementation of resolutions of the Major National Dialogue that held in 2019 and served as a platform to seek solutions to the grievances tabled by teachers and lawyers of the North West and South West Regions. The management of refugees, humanitarian assistance to international displaced persons and other vulnerable groups and the reconstruction of the North West, South West and Far North Regions, are other initiatives Cameroon received the backing of France. Accelerating decentralisation, promoting good governance mechanisms and other political reforms adopted by the gover...
Same category