Taekwondo Cup of Cameroon : Academy Boni, Donkel Maldam Winners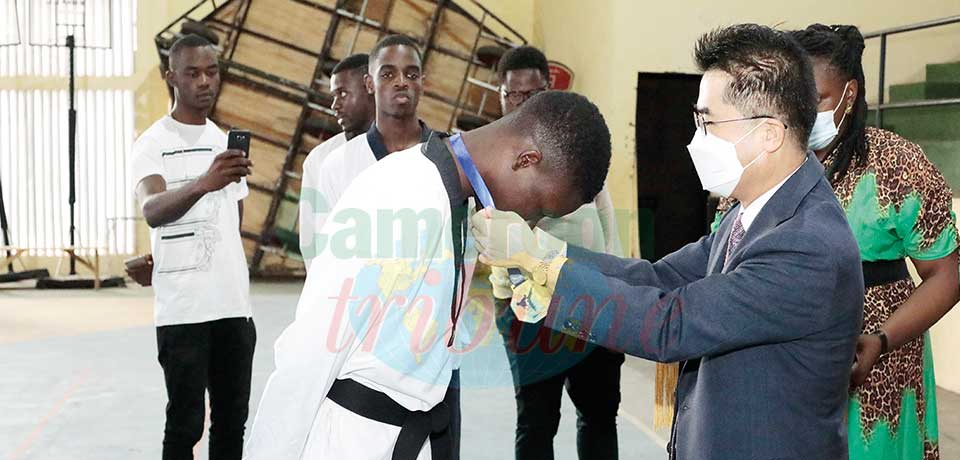 Some ten clubs from across the country participated in the 21st edition of the competition that took place on Saturday October 9, 2021 in Yaounde.

The Mfandena Multipurpose Gymnasium was the venue of the 21st edition of the Cup of Cameroon that took place last weekend in Yaounde. Organised by the Cameroon Taekwondo Federation (FECATAE), the competition brought together athletes from ten clubs across the country. The marked the end of the 2021 taekwondo season in Cameroon. For two days, the athletes competed in different categories in the Kyorugi and Poomsae disciplines. The public watched with excitement a demonstration of taekwondo by the national taekwondo team before the teams competitions in the kyorugi (men and women) and the poomsae mixed. It was an opportunity for Yaounde inhabitants to discover new techniques in the sport.
At the end of the competition, Academy Boni Sport of Douala beat Hypofobo Taekwondo Academy of Yaounde 3-1 victories to win the gold medal and the championship tile for 2021 edition. Hypofobo Taekwondo Academy from the Centre Region was second and Taekwondo Yako Academy (Centre) was third. In the women's competition, Donkel Paldam from the Centre Region overpowered DUC Taekwondo Club from the West Region 3-0 victories, with three abandoned fights. Saejong Daewan (Centre) was the third. In the poomsae which is the equivalent of kata, Hypofobo Taekwondo Academy was the strongest. Taekwondo Yako was second and Saejon Daewan (Centre) was third.
The event took place under the watchful eyes of the Korean Ambassador to Cameroon, Kim Jonghan. The Korean Ambassador used the occasion to donate equipment to the Cameroon Taekwondo Federation. The donation is not only to help in the promotion and vulgarisation of taekwondo in the country through the practice of the sport but also to keep the promise of Korea in supporting FECATAE in its efforts. The Secretary General of FECATAE, Nzeusseu Simo expressed satisfaction with the performances of the athletes and also the public that turned out to watch the event. He said the federation is envisaging the organisation of a tournament of champions in December whereby the best athletes of each category will meet to better close the season with best athletes of taekwondo.

Same category