US-Africa Leaders Summit : Magazine Highlights Cameroon's Participation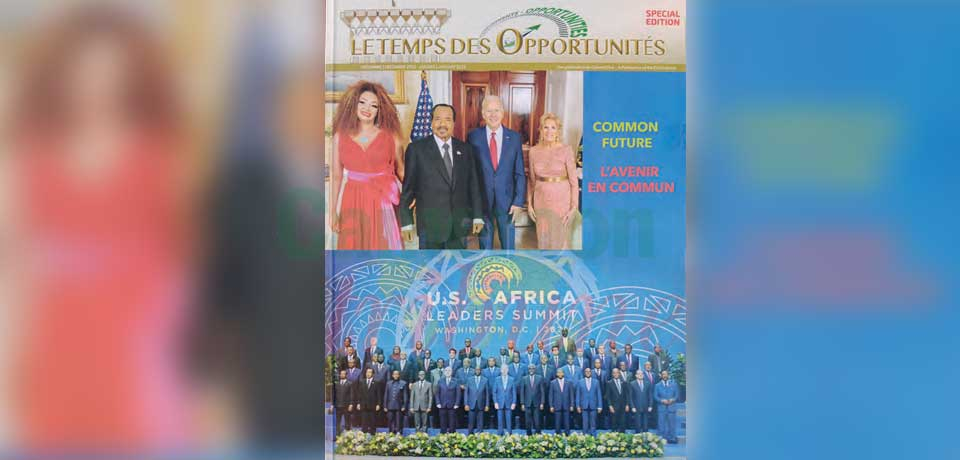 The 140-page magazine of the Civil Cabinet of the Presidency also presents other actions of the Head of State and the First Lady.
The latest publication of the Civil Cabinet of the Presidency titled "Le Temps Des Opportunités" which captures national and international activities of the President of the Republic, Paul Biya and the First Lady, Chantal Biya, has been published. It is a 140-page bilingual document which pictures illustrations and also contains decrees and decisions of the Head of State. The magazine is divided into eight different parts comprising an editorial, focus on the Head of State's message to the nation on December 31, 2022, highlights on the presentation of News Year wishes to President Paul Biya, Cameroon's participation at the US-Africa Leaders Summit, audience granted by the Head of State to various personalities and activities of the Head of State.
The newsletter on the mandate of great opportunities of President Paul Biya with a bilingual statement the Head of State made to the press at the Yaounde-Nsimalen international airport on August 2, 2014 before his departure for the first US-Africa Leaders Summit in Washington DC. Then follows a flashback of the aforementioned Summit before an editorial by the Minister, Director of the Civil Cabinet titled "Paul Biya's participation at the US-Africa Summit: the mark of the sphinx." The editorial presents prospects of a growing bilateral cooperation and notes that discussions centred on reviving economic cooperation and combating terrorism. "The Washington Summit coincided with the outcome of some decisive actions by American judicial authorities against three Cameroonian nationals financing terrorist activities in the North West and South West Regions. Considering that the crisis in these two regions began in 2016, and is now one of the major concerns of the peace-loving Cameroonian people, the mere prospect of having the sources of funding of terrorists cut off was motivation enough for President Paul Biya to attend the 2nd US-Africa Leaders Summit. We c...
Same category