Protection de l'environnement : sensibilisation à Souza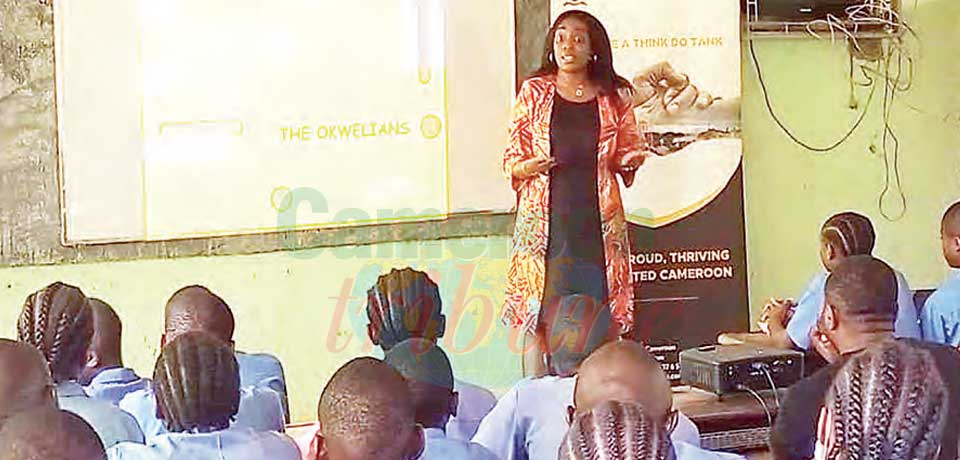 Pour le lancement de son initiative annuelle de service communautaire vert, le Think Do Tank dénommé The Okwelians s'est associé à la Fondation MAM ces 19 et 20 janvier pour s'adresser aux jeunes.
Cette première édition de « The O'let's green it » a mobilisé près de 120 jeunes du lycée bilingue de Souza, dans le département du Moungo, mais aussi des enseignants et des bénévoles du Think Do Tank. C'était l'occasion pour « The Okwelians » de sensibiliser et conscientiser la jeunesse sur les enjeux majeurs du développement durable et subséquemment, la nécessité de participer à la transformation de la Cité.
Le ramassage des déchets, notamment plastiques, a constitué la principale activité de cette première édition. Tout comme diverses activités artistiques et culturelles sur le thème de la préservation de l'environnement. Il s'est agi entre autres, d'ateliers d'arts plastiques pour rendre hommage à la nature ou encore la constitution d'une table de la nature qui a permis aux jeunes de représenter symboliquement des éléments de l'environnement.
« The Okwelians » a en outre partagé aux jeunes sept gestes éco-responsables à appliquer au quotidien. C'était à travers une session de sensibilisation ciblant près de 1300 lycéens et lycéennes. Ces sept gestes, issus de la Charte éco-responsable récemment adoptée par « The Okwelians », sont : la réduction de la consommation de papier, le tri des déchets, l'économie d'énergie, le non gaspillage de l'eau courante, l'utilisation de couverts réutilisables, la consommation des produits frais et locaux et la sensibilisation de l'entourage.
« Le lancement du service communautaire The Okwelians, let's Green it ! se veut désormais, pour la jeunesse, un rendez-vous annuel de transmission d'une conscience citoyen...
Same category