Investiture Ceremony of Nigeria's President-elect : Prime Minister Represents Head of State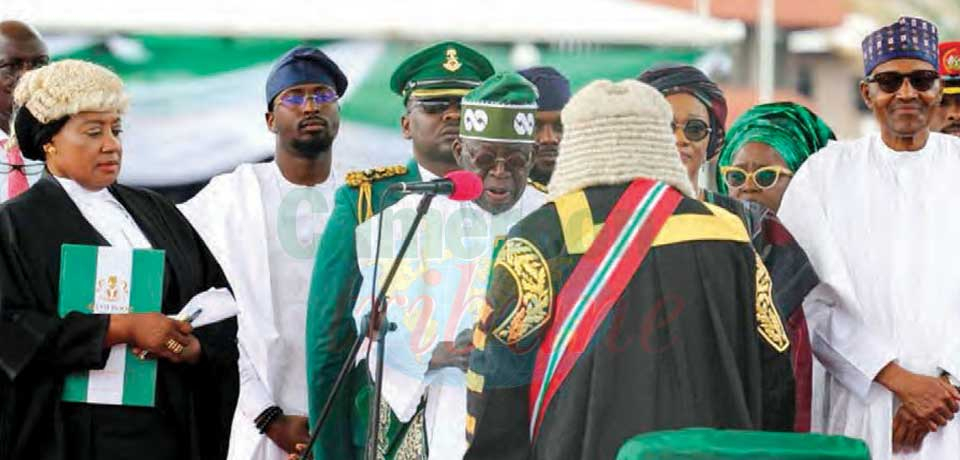 Joseph Dion Ngute attended the oath-taking ceremony and the reception offered by the Presidential couple on May 29, 2023 in Abuja in his capacity as President Paul Biya's representative.
The Prime Minister, Head of Government, Joseph Dion Ngute represented the Head of State, Paul Biya at the investiture ceremony of the President-elect of the Federal Republic of Nigeria, Bola Ahmed Tinubu which took place at the Eagle Square in Abuja on May 29,2023. The Prime Minister also attended the reception offered by the Presidential couple at the State House. He was amongst the over 60 leaders and representatives from around the world who attended the inauguration of the 16th democratically-elected President of Nigeria. Joseph Dion Ngute used the opportunity to have some exchanges with Cameroonian and Nigerian authorities on strengthening bilateral relations under the Bola Tinubu era.
The investiture ceremony proper started with words of prayer followed by the oath-taking ritual of the Vice-President, Kashim Shettima administered by the Chief Justice of Nigeria, Justice Olukayode Ariwoola. This was followed by the judicial oath-taking of Bola Ahmed Tinibu who swore to guard, protect and act according to the Constitution of the Federal Republic of Nigeria.
He was then handed the flag and various symbols of Nigeria.
In his inaugural speech, the President, Commander-in-Chief of the Armed Forces of Nigeria, Bola Ahmed Tinubu promised to defend Nigeria from terrorism and make electricity more affordable and accessible. He also said his administration will strive to re...
Same category