Niger – Algérie : rencontre au sommet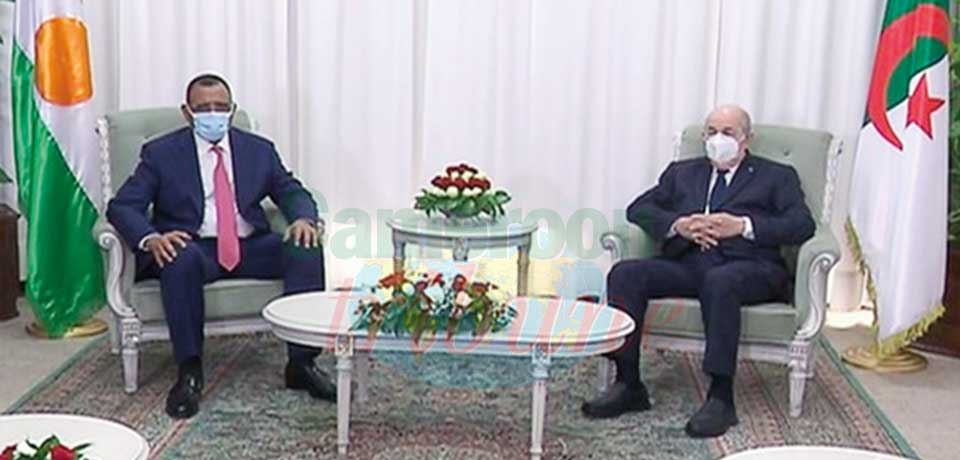 Depuis lundi, 12 juillet, la question sécuritaire est au centre des échanges entre les présidents Mohamed Bazoum et Abdelmadjid Tebboune.
A peine rentré de Paris où il a pris part, la semaine dernière, au Sommet du G5 Sahel, le président Mohamed Bazoum, est depuis lundi dernier en Alger pour une visite de travail et d'amitié de trois jours (12 au 14 juillet). La forte délégation qui l'accompagne constituée entre autres, des ministres de la Défense, des Affaires étrangères, de l'Energie, témoigne de l'importance des sujets inscrits dans son agenda. Des sources diplomatiques indiquent que la situation sécuritaire dans la région du Sahel est un des principaux sujets des échanges entre Mohamed Bazoum et Abdelmadjid Tebboune.
Read also :
Nigeria : Row Over Looted Artefacts
Le président du Niger souhaite en effet que l'Algérie joue un rôle plus soutenu en faveur de la stabilité de la région du Sahel qui connaît des soubresauts terroristes réguliers et inquiétants. Bazoum milite pour une implication algérienne au sein des forces du G5 Sahel. Plusieurs autres pays du Sahel et la France encouragent Alger à envoyer des troupes chez son voisin du Sud dans le cadre de l'engagement militaire au sein de la Minusma, la force onusienne au Mali. Les autorités y réfléchissement sérieusement et encouragent l'Algérie à franchir le pas. D'autant plus que ce pays est aussi soucieux des risques d'instabilité à ses frontières.
Read also :
"It's A House That Has To Be More Representative"
Des questions de coopération bilatérale ont également meublé les échanges entre Mohamed Bazoum et Abdelmadjid Tebboune. Notamment les secteurs des mines, du pétrole, de l'éducation et de la formation professionnelle. Le dossier de l'immigration clandestine constitue un casse-tête pour les deux pays. L'Algérie avait signé un accord de rapatriement des clandestins nigériens sur demande de Niamey. Or, d'autres immigrants clandestins des pays sub-sahariens utilisent le Niger comme terre de passage vers l'Algérie. Depuis le début de l'année, 3 779 migrants ont été expulsés de l'Algérie vers le Niger. La plupart sont originaires d'Afrique de l'Ouest, principalement de Guinée Conakry, du Burkina Faso, de la Sierra Leone et du Mali.
Read also :
Pan African Parliament : What Impact 17 Years After?
Depuis l'élection d'Abdelmadjid Tebboune en 2019, la visite du président du Niger à Alger est la deuxième d'un président du Sahel, après celle de l'ancien président de transition malien, Bah N'Daw le 13 mars dernier.
Read also :
Affaire Pegasus : tension entre Paris et Rabat
Same category