Ciné-club Nkah : les séquences de partage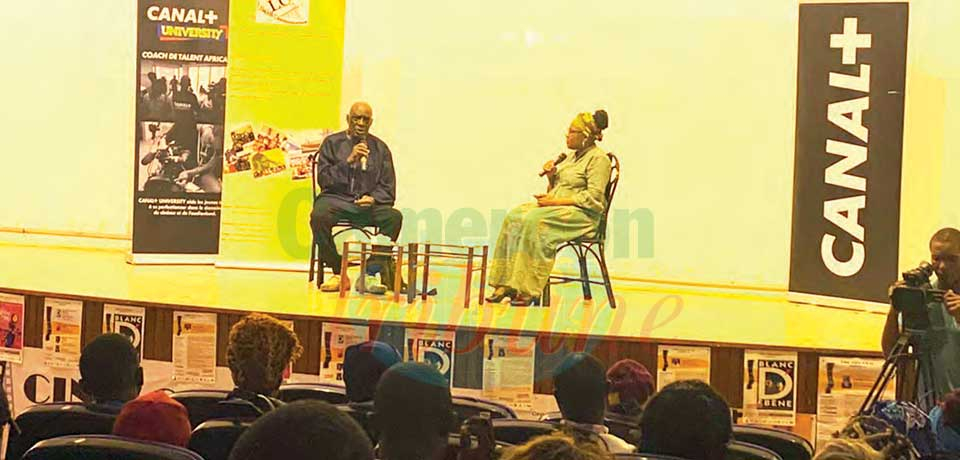 Invités de la 14e session, Cheik Doukoure (Guinée) et Maka Kotto (Canada) ont communié avec le public de Yaoundé au cours de masterclass lundi dernier à la salle Sita Bella.
« La jeunesse se perd, faute de repères. Quand on choisit un métier, il faut toujours avoir des références pour avancer. Ce genre d'initiative permet aux jeunes de se projeter ». Satisfecit du comédien camerounais, Léo Le Roi, lundi dernier au sortir des master classes du Canadien d'origine camerounaise, Maka Kotto et du Guinéen Cheik Doukouré. Comme lui, ils étaient nombreux à venir s'imprégner du parcours et du vécu de ces deux illustres cinéastes francophones à la salle Sita Bella, à l'occasion de 14e session du Ciné-club Nkah, initié par l'Association Tell And Be Africa. « Le cinéma ne date pas d'aujourd'hui. Il est important de s'abreuver auprès de ceux qui ont commencé avant nous, si nous voulons faire des films qui vont aller au-delà de nos frontières. Aujourd'hui, nous avons eu l'opportunité d'échanger avec deux icônes et c'était si édifiant. Pouvoir apprendre leur méthodologie était très important », a confié le réalisateur et scénariste camerounais, Steve Kamdeu.
Premier à ouvrir les portes de son expérience cinématographique et culturelle à son auditoire, Maka Kotto. Durant deux heures, l'acteur, metteur en scène, auteur, homme politique et ancien ministre de la Culture et des Communications au Québec a entretenu les participants sur l'attractivité et la compétitivité de l'offre cinématographique africaine sur le marché local et international. Une thématique dont l'intérêt n'est plus à démontrer au regard de la prolifération des productions et de la kyrielle des chaînes de télévision. L'échange a édifié de nombreux cinéastes confirmés et en devenir, à l'instar des étudiants de l'Institut de formation et de conservation du patrimoine audiovisuel de la Crtv.
A la suite de Maka Kotto, les projecteurs étaient braqués sur Cheik Doukouré qui édifié le public sur le rôle et la place du scénario dans un projet cinématog...
Same category